Can Condo Associations in Illinois Prohibit the Use of Marijuana?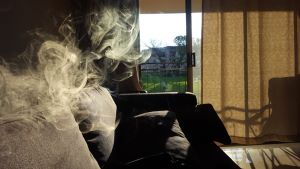 Starting in 2020, the use of marijuana for recreational purposes became legal in Illinois. While adults are allowed to possess and use a certain amount of marijuana or marijuana products, those who do not use these substances may be concerned about how they will be affected. In particular, people who live in close proximity to marijuana users may be bothered by the smell of marijuana smoke, or they may worry that the use of drugs by others could potentially put them at risk. As they address concerns about marijuana use by residents, condominium associations will need to understand what types of rules may be put in place to limit, restrict, or prohibit these activities.
Bylaws Limiting the Smoking of Marijuana
The Cannabis Regulation and Tax Act, which legalized marijuana use in Illinois, included provisions detailing how condominium associations may limit the use of marijuana. This law changed Section 33 of the Illinois Condominium Property Act (ILCPA) to state that an association may limit or prohibit the smoking of cannabis within individual units. However, other methods of consumption of marijuana, such as vaping or edibles, cannot be restricted within owners' units or limited common elements such as private balconies or patios.
Under this law, condo associations may take steps to address the potential nuisance caused by marijuana smoke. Restricting the smoking of marijuana in owners' units may prevent smoke from spreading to other units or common areas and affecting others. At the same time, unit owners will be allowed to use marijuana legally through other methods, without being subject to unfair or illegal restrictions. A condo association may also take any other necessary actions to address activities that may create a nuisance for residents.
It is important to note that the law states that smoking of marijuana can only be prohibited by "condominium instruments," which include the condo's declaration and bylaws. If a condo's bylaws already prohibit smoking within units, no further action will need to be taken to address marijuana smoke. However, if an association wishes to add new restrictions to the bylaws, it will need to put amendments in place, which will require approval from a certain percentage of unit owners. Rules and regulations limiting marijuana use in individual units cannot be put in place solely through action by the board.
While amendments may be necessary to address marijuana smoking in owners' units, a condo association can put rules in place limiting or prohibiting the use of marijuana in common areas. A board may implement new rules as needed to ensure that people do not use marijuana in areas where other residents will be directly affected. This can ensure that those who do not want to be exposed to marijuana will be able to use common areas of a condominium, while still protecting people's right to use marijuana in their own homes.
Contact Our Chicago Condo Bylaws Attorneys
While condominium associations may be able to take steps to address marijuana use by owners, they will be required to follow the applicable laws and ensure that they are not placing illegal restrictions on people's ability to use legal substances. At Dickler, Kahn, Slowikowski & Zavell, Ltd., our Arlington Heights condominium association lawyers can provide guidance on what types of rules may be put in place and the procedures that will need to be followed to amend bylaws. To learn more about how we can help condo associations address these issues correctly, contact our firm at 847-593-5595.
Sources:
https://ilga.gov/legislation/101/HB/10100HB1438sam002.htm
https://www.cai-illinois.org/recreational-marijuana-in-condominium-associations/